Shankar 6 (with 1.1/8 staple fiber quality with 28 gpt strength.) delivers world's lowest neps/gram
ratio leading to low nep formation in yarn.
It carries excellent homogeneity and prevents bale variation. Shankar 6's extraordinary luster in finished fabric makes it the textile industry's hot favorite in India and China.
It is also preferred by Dyeing Units for its excellent absorption capacity and by Printing Units for its brilliant reflection and luster. Other varieties on our comprehensive range include V797, J-34, MCU 5, MECH 1, LRA, DCH-32.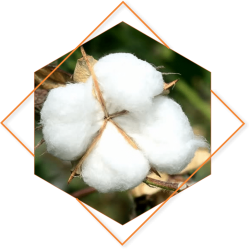 Type
Staple
Strength
Growth Region
Season
Shankar-06 Grade:sm

Shankar-06 Grade:sm

Shankar-06 Grade:m
1-5/32"

1-1/8"

1-1/8"
29 GPT

29 GPT

28 GPT
Gujarat
End Oct to March
J-34(s/g)

J-34(s/g)

J-34(s/g)

J-34(s/g)

28 MM

27 MM

26 MM

25 MM
27 GPT

27 GPT

26 GPT

25 GPT

Punjab,

Haryana.

Rajasthan
End Sept to Mid Feb

MCU-5

MCU-5

MCU-5
32 MM

31 MM

30 MM

31 GPT

30 GPT

29 GPT
Andhra Pradesh,

Orissa

Nov/ Dec to Feb

Bunny Brahma / Mech-1

Bunny Brahma / Mech-1

Bunny Brahma / Mech-1/H4

LRA

Organic Cotton Ecocert

Organic Cotton CU Certified
31 MM

30 MM

1-1/8"

26 MM

1-1/8"

1-1/8"
29 GPT

28 GPT

28 GPT

26 GPT

28 GPT

28 GPT
Madhya Pradesh,

Maharashtra,

Karnataka
Nov/ Dec to Feb